Get in contact
Job Type
ResidentialCommercialIndustrial
Submit
Residential Solar
DS Energy provides premier design, installation, maintenance and repair of solar system products for South East Qld and Cairns' homes. Our team can often provide you with an accurate assessment after a short phone call with you in the comfort of your home.
I would like a quote
Why DS Energy?
Our Point Of Difference
We own projects from start to finish and after (no outsourcing). Our vertically integrated model means that from installation to monitoring and maintenance, you will be assisted by the same staff throughout. We focus on building long term relationships with our clients, we pride ourselves on the ability to respond to your service requirements in an efficient and cost-effective manner.
If you're looking for experienced, trustworthy solar industry professionals, you have come to the right place! Call us today on 07 3051 2051 or fill in the enquiry form and we will find the residential solar panel system that is perfect for you.
"Dave and the team at DS Solar did an outstanding job installing our system. No fuss from start to finish and professional throughout the entire process. Would highly recommend."
Bridget B. – DS Energy Client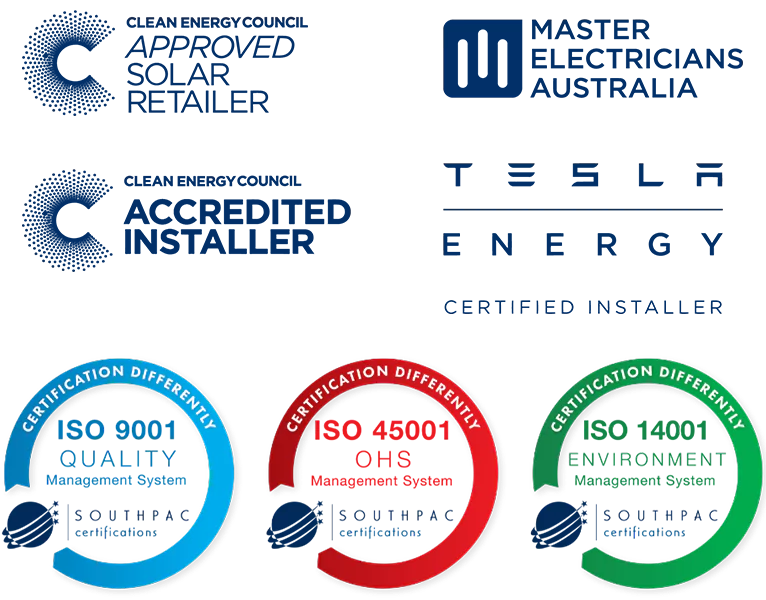 Solar System Design
For the design of your solar panel system, we take into account the following: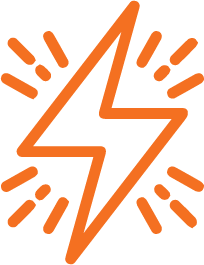 Electricity Audit
The amount of electricity your home uses currently and estimates for the future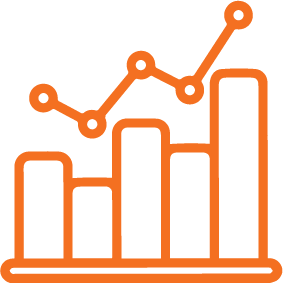 Day/Night Use
The times when electricity is most used in your home which can be used to extrapolate the need for solar battery storage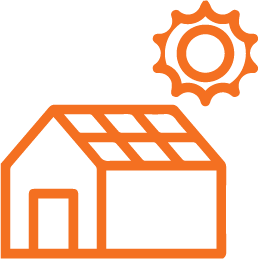 Roof Analysis
The size, pitch and orientation of your houses' roof to determine what can be fitted to your home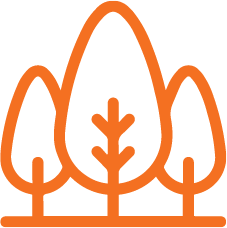 Shading
The amount of shading (permanent and fluctuating) at different times of the day & year caused by physical structures
Schedule a consult
+-How does residential solar energy work?

Solar panels, made of photovoltaic cells, convert sunlight into Direct Current (DC) energy which are then sent to an inverter. The solar inverter converts this energy into Alternating Current (AC) electricity suitable for household appliances. A meter must be installed to measure your electricity production and consumption. Any excess electricity generated but not used by appliances is fed back into the grid.

+-What is a solar installation made up of?

There are a number of components in a solar installation however the main two components are the Solar Panels which convert UV into DC Energy and the Inverter which converts DC Energy into 240 V AC Energy for use in your home or business.

Other components that are utilised include the mounting system which forms a base frame for installing the panels on the roof, the DC Isolators which allow the system to be isolated in the event of a fault, UV Stabilised Conduit for running cables and a smart meter which allows you to look at the energy being produced by the system, the energy being consumed onsite and the energy being exported to the grid.

+-Can you run a home entirely on solar power?

If you wish to rely on solar power alone, you will need a big enough solar panel system and battery to store excess solar power to cover your needs. However, it is best to speak to a solar installation professional to determine if this is possible or not. Please get in touch with our team to discuss your solar panel requirements!

+-How do solar panels work with your electric bill?

Installing solar panels can dramatically reduce your electricity bill. However, several factors need to be considered when looking at how much money you could save. These factors include the size of your solar panel system, the orientation of the solar panels on your roof, the size of your roof, and your average electricity consumption.

+-Where is the best place to install your solar PV system?

In Australia, the best orientation to maximise energy output is in a northerly direction, and the tilt of your panels varies from state to state.

+-What makes for a good quality solar installation?

There are a number of factors that contribute to a good quality solar installation however from our perspective the three that will determine the long term success of the system are the sales company, the components and the installation team. The nexus of these three is what you are hoping for in any installation.

Sales Company: Finding a quality sales company is probably the easiest of the three – finding a quality sales company that you trust is often more difficult. Often your interactions with a sales company will be through the sales person who is driven by sales volumes and commissions and not by the long term success of the company. My recommendation is always to ensure that you have a direct line of site to the owner of the business and that you trust them. This will ensure that if something goes wrong you can access them.

Components: The solar industry is flooded with different manufacturers so it is often hard to determine what components are good quality vs poor quality. If you've identified a good quality sales company then they will provide sound recommendations as to the components you should use. It is in their interest to ensure that the components last as any return trip is going to be under warranty and not overly profitable for them. Things to look for in a good quality component supplier include:

– How long have they been in business? – Do they have a local Australian business or is the company only support through a distributor? – Who else has chosen them – look at the case studies

Installation team: there are lots of good quality installers out there however there are also a lot of very poor quality installers. For the majority of sales companies the quickest way to reduce cost and increase profit is to outsource the installations to small teams with low overheads. Quality Sales companies still outsource however they will have long term installation partners in place who have installed many systems for them. Ask the question as to who is going to be installing for you before you sign the contract.

+-Small Scale Technology Certificates*

Under the Small-scale Renewable Energy Scheme, eligible small-scale renewable energy systems are entitled to a number of small-scale technology certificates. The number of certificates that can be created per system is based on its geographical location, installation date, and the amount of electricity in megawatt hours (MWh) that is:

generated by the small-scale solar panel, wind or hydro system over one or five years, or a single maximum deeming period, or displaced by the solar water heater or heat pump over the course of its lifetime of up to 10 years. As a guide, one certificate is equal to one megawatt hour of eligible renewable electricity either generated or displaced by the system.

You can calculate the number of certificates a system may be eligible for ​using the small generation unit STC calculator and solar water heater STC calculator.

The Renewable Energy Target is supported by an online registry system, called the REC Registry, which facilitates the creation, validation, auditing and transfer of certificates

*http://www.cleanenergyregulator.gov.au/RET/Scheme-participants-and-industry/Agents-and-installers/Small-scale-technology-certificates
Financing
At DS Energy, we recognise that while solar panel systems are a sustainable investment that will save you money in the long run, the panels themselves and the installation can initially be quite expensive. That's why we offer finance options for our customers.

Household storage
Over the past five years Residential Batteries have become the new norm with customers wanting to take control of the household energy consumption and utilise all the energy they are producing onsite. We will work with Customers to ensure that our solution meets our customers requirements. Our trained team of Battery installation professionals have experience across a range of technologies including but not limited to Tesla, LG, Samsung, BYD and Sonen.
Dean W.

Paul J.

Helen S.

Robyn F.

Bridget B.

Adrian C

Bob M

D. C

Stephen B